Gundam Wing Deathscythe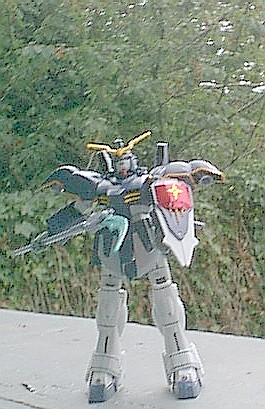 | | | | | | | |
| --- | --- | --- | --- | --- | --- | --- |
| Kit | Kit Manufacturer | Scale | Price | Options | Out of Box (OOB) or Modified | Rating (1-10 10=best) |
| Gundam Deathscythe | Bandai | 1/144 | $10 | Weapons | OOB | 9 |
This is another Gundam from the Gundam Wing series, taking place a few years after the original Mobile Suit Gundam series. There are two versions available - this and the Deathscythe Hell, which has a number of cosmetic additions that add to the angular look of the Gundam. This is armed with an energy scythe and a blade that extends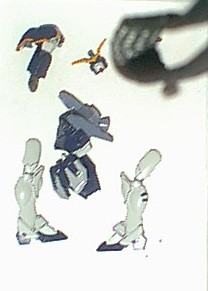 between the 'pincers' on the shield. I happen to like this one not just for its look, but for the "everyman" pilot in the series - of course, the name escapes me right now, argh....
If you've read my other reviews, you know how well I like these kits. They have easy, snap-together assembly with poly caps for the pieces that move against each other. Many kits, such as this, have sprues that are molded with multiple colors (blue, grey, yellow) on the same sprue, unusual among other styles of kit. This makes it possible to build a good looking model with no painting (though I did do some painting on this kit.)
There was, frankly, nothing all that remarkable about the assembly of this kit. I almost wish there were, so I'd have something to write about! Having a few of these under my belt now, assembly went very fast. When I built the Wing Zero Custom, it took some time for each assembly (arms, legs, torso.) This kit took less than four hours, with several pauses for household and pet needs.
I started the evening before, with doing some prepainting.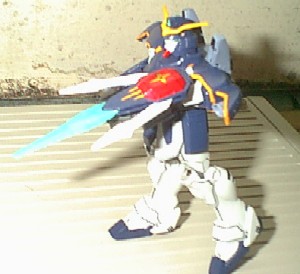 For brush painting kits such as these, I really like Gunze Sangyo's line of paints. They have excellent coverage, and behave well when brushed as well as airbrushed. I put the feet together, as they're the only part that really needs to be painted to match the original. The tops of the "feet" need to be white, and flat white works well here. (They should be a light grey, really, to match the plastic, but the flat white isn't glaring.) I also used Gunze's Orange Yellow for the edging on the shoulders. I painted the eyes with Testors' teal and flat black, with a red "mouth." Panel lines were highlighted after building with Testors Model Master Acryl black - just run it in, and wipe it off immediately. A few details were also picked out with yellow and light grey, according to the box art and pictures on the instructions. The only decal I used was on the shield, and the spikes still needed painting in Orange Yellow. (This is what led to the 9 rating instead of a full 10. Not a major issue, but a little annoyance.) Oh, and unlike some of their kits (typically "high grade" or better) the energy portions of the weapons must be painted (teal, in this case) as they are not clear.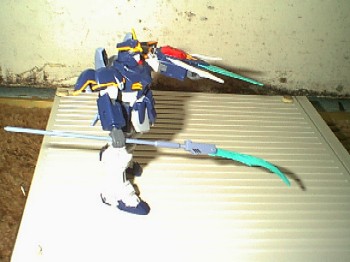 Typically, the kit assembles in subassemblies - feet and legs, arms, torso, and head - and it all comes together in the end. If you want something to throw together and relax over, say, lunch, or you're in tech support and have a long call (not that I've ever wanted to do this *cough*) this breaks it down into easy to complete "chunks." Even if you build it all at once, it gives a good sense of progress, which is great if you're building this with a younger person you're trying to bring into the hobby.
One clever little bit in this overall nice little kit is that the pincers, which could have been molded as completely seperate entities, are "geared" inside the shield so they open and close together and end up in nearly the same position. They also open so you can add the energy "blade" to the shield. You're also given an extended scythe with a pivoted "blade" (it can stick straight out or off to the side) as well as a collapsed version that stores on the back of the suit.
Once again, an interesting, colorful, easy to assemble, and fun kit. Reccommended.