Brewster Model 239 Buffalo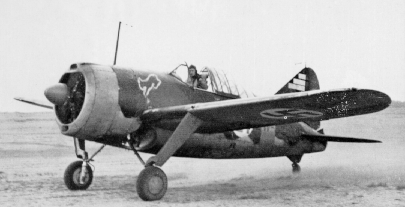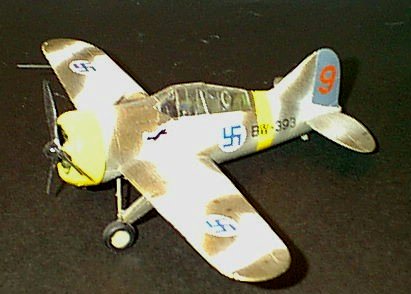 | | | | | | | |
| --- | --- | --- | --- | --- | --- | --- |
| Kit | Kit Manufacturer | Scale | Price | Options | Out of Box or Modified | Rating |
| F2A-2 Buffalo | Tamiya | 1/48 | $24 | | Modified (see text) | 8 |
This is one of my more ambitious conversions. I was reading about Finland's defence against the Soviet Union's invasion during WWII, and how the Brewster Buffalo - one of the most maligned fighters in both USN and RAF service - achieved incredible kill ratios in Finnish service. I decided I'd model one of their aircraft. Only problem is, the only Buffalo model is an F2A-2 (so far as I know.) To model the correct aircraft, I had to do some work.
The Model 239 was essentially a de-navalized F2A-1 Buffalo. To depict this, I had to:
Round out the cowl opening - The F2A-2 has a "rounded rectangle" for an opening, where the F2A-1 and 239 have an almost circular cowl.
Add upper machine gun blisters - the F2A2 is more "integrated" with the cowl. Easy putty fix.
Shrink and lower the air intakes - the lower cooling intake actually forms a "blister" but redoing this would be beyond my means right now. Shrinking them works better.
Lower the engine exhausts
Fill most of the gas vents around the cowel, and add one on each side of the fuselage under the vertical tail with a hot knife.
Paint over the ventral window.
Create new windscreen glass (the original kit part had a big cutout for the telescopic sight, unused on a 239.)
Find a smaller spinner for the propeller, and sand the cuffs off the prop blades.
It really didn't take that long to do, using Squadron/Signal's "F2A Buffalo in Action (aircraft #81)" (ISBN 0 89747-196-2) as my main resource. I finished the aircraft in a "winter" scheme serving 1942 (with yellow ID markings as applied to all German cobeligerents.) The kit itself, while not up to what I'm used to from Tamiya, is still a wonderful kit. The parts fit very well in most instances (watch the wings when you put them together, and join them to the fuselage.) The only place I had a problem was with the vertical tail not joining - it was slightly warped. I may buy another one of these and build it as an F2A-2 at a later date.