Messerschmidt BF-109E-3 "Legion Condor"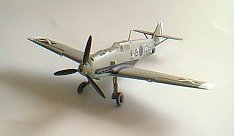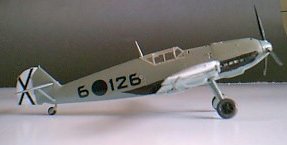 Kit

Kit Manufacturer

Scale

Price

Options

Out of Box (OOB) or Modified

Rating (1-10 10=best)

BF-109E-3 "Legion Condor"
Hasegawa

1:48

$18

Markings

OOB

9

---Rating
The Spanish Civil War provided several countries with a testing field for new weapons and tactics. France, Italy, Germany, and Russia all sent weapons and troops to the Iberian Peninsula for extensive "field testing." Otherwise excellent biplanes such as the I-15, Italy's CR.32 and CR.42, and the HE-52 were proved obsolete with the introduction of Russia's I-16 - which led to Germany sending some of its early BF-109E's to Spain to counter them as part of the "Legion Condor."

The kit itself is rather simple. Also, outside of a new decal sheet (the old one is not included) and a new page with painting instructions, the kit is the same as Hasegawa's regular "Emil." The kit consists of just a few sprues of light grey parts, one of photoetch (of which you only use the radiator grilles) and one of clear parts. The most detail and work is done in the cockpit - the upper edges seem a tad too narrow for the cockpit, but it's not really noticable. The rest of the kit is really quite simple and pretty much falls together.

Getting the photoetch in the nose radiator (oil cooler) is not very clear in the instructions, or very easy to do. I waited until the nose halves were together, then glued it in where it looked like it should go. It looks OK to me.

The front decking is a bit of a pain to align. Everything from the exhaust up is one piece (no engine is included. The upper deck guns fit in well, but the cowling-fuselage join was a bit of a struggle. I ended up using a combination of super glue to get it to stay put, and liquid cement to secure it permanently. Some fingerprints had to be sanded off after this. (Grrrr)

Remember, you don't need the photoetch armor for the canopy. Leave it off.

The rest of the kit went together well - no gaps (except for a hairline one at the base of the tail) and no fit problems anywhere. Unlike the later variants, no holes for miscellaneous bulges had to be opened, nor did any variant-specific panel lines have to be scribed.

Painting

The painting scheme for this aircraft is really very simple - RLM Grey 2 over light blue, with a white rudder and white wingtips. With a good light basecoat, there shouldn't be any problems.