Messerschmidt BF-110G-4
Luftwaffe Night Fighter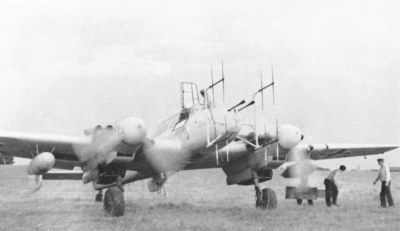 The Full size BF-110G Night fighter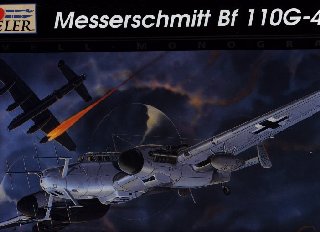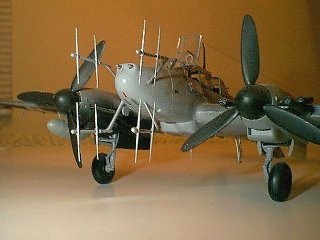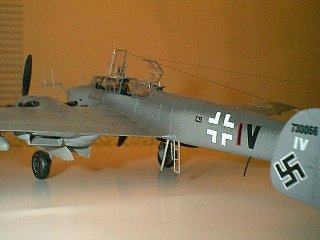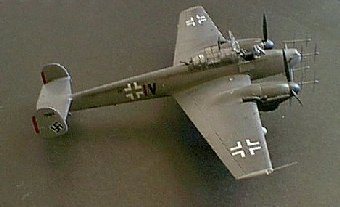 | | | | | | | |
| --- | --- | --- | --- | --- | --- | --- |
| Model | Manufacturer | Scale | Price | Options | Out of Box or Modified | Rating (1-10) |
| BF-110G4 | ProModeller | 1/48 | $15 | Markings | OOB | 8 |
The Messerschmidt BF-110 was originally designed before World War II to be a "Zerstorer" (Destroyer) heavy fighter. It was meant to have long range and the ability to escort bombers, perform ground attack missions, and the like. In the air over Britain, however, it was found to be vulnerable to the more nimble, modern fighters such as the Hurricaine and Spitfire.
Withdrawn from service as a standard fighter, the ME-110 found new life in a few new roles - the most successful of which was the radar equipped night fighter. It saw service in this role with many squadrons until the end of the war.
This kit of the BF-110G-4 includes markings for Maj. Heinz-Wolfgang Schnaufer, who scored 121 night "kills". Markings for his aircraft and another from a different NachtJagdGeschwader (Night fighter squadron) are included. The kit also includes swastikas for the tail surfaces (not seen in many kits of WWII German aircraft - either for international marketing or "politically correct" reasons. Kudos for remembering these and going for accuracy.)
The kit includes full armament, including the schrage musik cannons which became common on night fighters. The pilot utilized these by flying below and slightly behind his intended target, and firing away. The kit also includes the full set of radar aerials for the FuG 220 Lichtenstein SN-2 radars. This is probably the weakest point in the kit - the mounting should be done with superglue, as the locating points do not give any support to the nose mounted aerials, and they are easily misaligned. The canopy can be mounted opened or closed.
All in all, it's a decent kit, but it still requires a little work to get right. Reccommended for modelers with some experience - and patience.
.