Dornier DO-335 Pfeil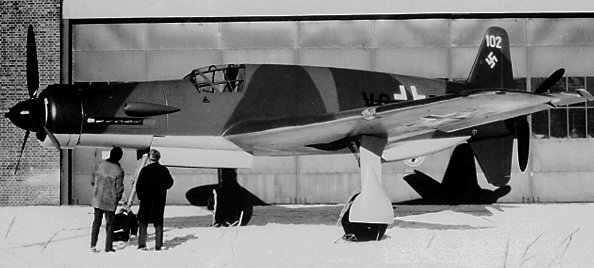 A full size, restored 335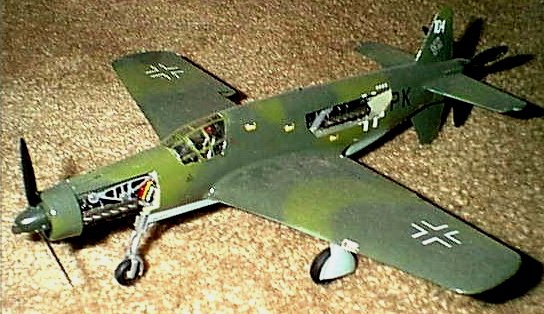 | | | | | | | |
| --- | --- | --- | --- | --- | --- | --- |
| Kit | Kit Manufacturer | Scale | Price | Options | Out of Box (OOB) or Modified | Rating (1-10 10=best) |
| Dornier 335 Pfeil | ProModeller/Monogram | 1/48 | $15-$20 | Single or dual seat (nightfighter,) markings | OOB | 7 |
The DO-335 was one of the most unique fighters to come out of WWII Germany. (This is really saying something considering other weapons such as the ME-262, ME-163, and the Natter.) It was a twin engine "Zerstorer" (Destroyer,) a concept which led to aircraft such as the BF-110, ME-410 and Heinkel HE-219. The Dornier design, however, was different - as you can tell with one look.
The first thing you notice (outside of how tall the airplane is) is the twin sets of propellers - one in front, and one in back. This was done to give the twin engine aircraft the advantage of having less drag - comparable to a single engine aircraft. This led to increased speed and torque compensation.
The DO-335 was in the prototype stage, with several variants planned, at the end of WWII. It was a high performance aircraft, and if it had been put into productin sooner, could have made life for Allied airmen much more dangerous. The Smithsonian had one example after WWII for a while, which was later restored by and donated back to the Dornier company in Germany.
The Kit
The kit itself has been re-released by ProModeller. It's a decently detailed kit, that doesn't take undue effort to put together, but seems more like a Monogram kit of ten years or so ago. The kit has raised panel lines, "movable" control surfaces, three figures (a standing pilot and two ground crewmen) but still decent detail and *nice* ProModeller instructions (as we've come to expect, with pictures of the real aircraft.)
The canopy area and "turtledeck" (single or double seat) is moulded seperately. Be careful gluing this on - it will show if you mess up.
The engine covers are rather loose. The engines themselves are only "half" moulded - look carefully, and you'll notice there is no *back* to them. Aftermarket vendors could fix this quite easily. There is also no detail in the "back" of the fuselage engine bay.
The worst fitting part of the kit (to me) was the nose "deck" with the two nose guns in it. They, and the nose radiator (circular radiator, just like the JU88 and TA152) did not want to align - use the engine cover to help align it. I didn't, and leave the engine cover off to "hide" the resulting huge gap.
All in all, this is not a difficult kit. Some photoetch parts are included (seatbelts) and the cockpit is decently detailed. There were no real fit problems (outside of the nose, as mentioned.) But this kit takes up some room! Detailers will still find plenty to do, but anyone who just wants a model of this unique fighter will not be disappointed or have to do excessive amounts of work to get a decent representation. Reccommended.