Junkers JU-88A-4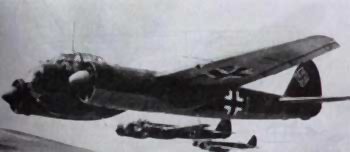 Pictures available soon.
| | | | | | | |
| --- | --- | --- | --- | --- | --- | --- |
| Kit | Kit Manufacturer | Scale | Price | Options | Out of Box (OOB) or Modified | Rating (1-10 10=best) |
| Junkers JU-88A-4 | ProModeller (reboxed Dragon) | 1:48 | $28 | Markings | | Not yet built |
The JU-88 was developed in response to a mid-1930's request for a schnellbomber, a fast, medium bomber that could (in theory) outrun contemporary fighters. The Luftwaffe got that - and got their money's worth out of the airframes. The JU-88 was used for the medium bomber role throughout the wall, as well as a dive bomber, night fighter, long range bomber interceptor, and even an unmanned flying bomb (the Mistel project.)
This kit is sold in the US through Revell-Monogram's ProModeller line, and is a rebox of the Dragon/DML kit. Open it and one of the Dragon JU-88 series kits up, and you'll see mostly the same parts (minus variant changes.) The kit has a five piece fuselage (front left, front right, rear fuselage left and right - common to all variants - and the bomb bay cover, seperate for ease of creating different major versions.
The kit comes with several markings choices. One machine, which I'll be modelling, has a desert camoflage scheme (tan and green.) Another has the standard "splinter" scheme, and a third has a splinter scheme with a "wave" overspray (I may have to buy a second one of these kits just to do this scheme, it's interesting looking.) The decals look rather well done, the mouldings do as well. Unlike the JU-88G-6 kit mentioned elsewhere on the site, the kit does not require a tail weight (apparently unique to the night fighter kit.)
The mouldings are good and flash free - the fit unknown at this point, though earlier reports mentioned some problems around the forward wing root.
More as the kit gets built (soon - no, really!)