F9F-5 Panther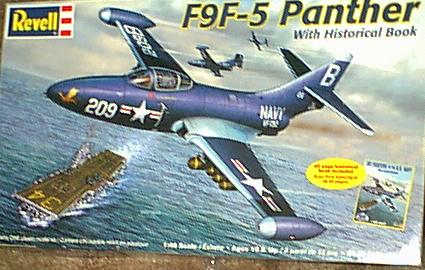 | | | | | | | |
| --- | --- | --- | --- | --- | --- | --- |
| Kit | Kit Manufacturer | Scale | Price | Options | Out of Box (OOB) or Modified | Rating (1-10 10=best) |
| F9F-5 Panther | Revell-Monogram | 1:48 | $26 | -Markings | -------------Modifications | 8 |
The F9F was Grumman's first entry into jet powered aircraft for the Navy. It was lagging behind some of the other companies (such as McDonnell with its FH Phantom fighter,) but this tended to be in keeping with Grumman's philosophy of not throwing together a new engine and new fighter at the same time. It turned into a very good, reasonably forgiving aircraft, and was later modified into the swept-wing Cougar.
This is not to say it didn't have a few teething troubles, though. At one point, early models started having a tendancy to blow their noses off in certain circumstances. There was no means for gun gas extraction - once this was discovered, an extractor vent was added. Also, one pre-production machine actually pulled its tail off on carrier landing qualifications. The structure was beefed up, and the problem never showed up on a production Panther.
The kit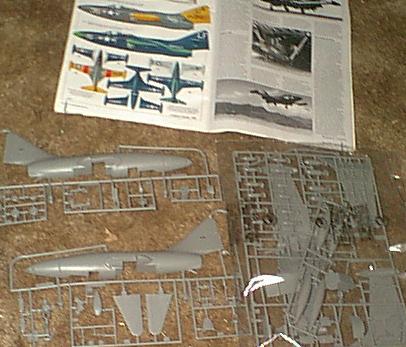 The kit comes on several sprues of grey plastic. Mine had a little bit of mold grease on it, but that will be easy to clean up. There's an occasional bit of flash, but not a great deal - not enough to even notice at first. The molds are generally clean and look pretty good.
I'd had a copy of Scale Aviation Modeler International with a set of plans and color profiles for the Panther (volume 5 issue 3.) I'd seen some of the other schemes available for the aircraft - Argentinian, drone controllers, etc. - and thought I'd try one of those out. Looking at the plans, though, I started noticing some odd things. (For what it's worth, it comes with two mostly overall sea blue schemes - one for VF-192 - the "golden dragons" - and one for a Marine F9F from VMF-334, with "flames" on the nose.) There's also a good selection of bombs, rockets, and drop tanks for the aircraft.
Initially, I thought the tail was misshapen. It's not, it's due to the way the part looks on the sprue. It IS, however, panelled incorrectly. THis, for whatever reason, started bugging me more and more - it's something I'll have to correct on the kit. (The upper rudder half's bottom side should be angular, and the trim tab longer.) In addition, there are several panel lines that just look... wrong, or are missing. (Top and bottom of the tail stand out the most, to me.) These will be reasonably easy fixes, as they are light, minor panel lines.
There's also a problem with the leading edge of the tail (both horizontal and vertical.) The leading edges are natural metal, and do have an actual *panel* line there. These are not on the kit. The horizontal tail, being reasonably flat, will be easy to add this to. The vertical tail, going through a few compound curves, will not. I'm not sure if I'll try to carve this in, or find my Bare-Metal Foil and just foil it in.
Last but not least, the two larger blow-in doors for the engine (I think that's what they are) are too large, and shaped wrong. These are very noticable items. Plus, for some reason, R/M has the panel line curving *up* and meeting the forward and aft edges... why, I don't know, but this area will be redone.
There are other panel lines that need a bit of work, or are missing. On the good side, the tail shape and overall shape appear good, and the cockpit is far enough forward to indicate the F9F-4/5's fuselage stretch over the 2/3's. I'll have a few other panels to add, as the scheme I'm thinking of doing (if you have the Scale Aviation Modeler INternatlional issue I mentioned, it's #15, engine grey/yellow/red, 1956, VU-1, Barber Point, HI) doesn't have the guns (necessitating filling in the ports and removing the gas extraction vent,) and needs a new panel carved into the nose.
Not a LOT of work, but some that needs doing anyway. Still, it looks to be a reasonably easy kit to put together, even with that work. And given that these schemes shouldn't be weathered much, as they're gloss, it should... SHOULD... come out looking nice!
Oh, for what it's worth, this edition comes with a rather nice book on early Navy jets, including the F9F (obviously,) F4D Skyray, Cutlass, Phantom, and others (not the F-4, the other one.) There's supposed to be a "part two" coming out in another kit. The book is an interesting read, giving a quick (usually about 2-3 page) history of each featured aircraft. There are some nice photos and such. It's not going to be mistaken for a Squadron "in action" or "Detail and scale" any time soon, but it's still a good book, worthy of being put on your reference shelf.