Vought OS2U Kingfisher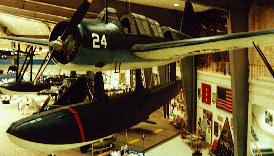 A preserved OS2U Kingfisher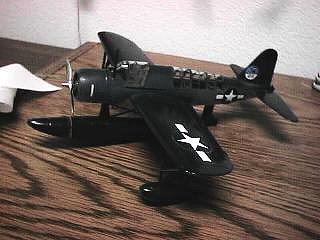 | | | | | | | |
| --- | --- | --- | --- | --- | --- | --- |
| Kit | Kit Manufacturer | Scale | Price | Options | Out of Box or Modified | Rating 1-10 |
| OS2U Kingfisher (HiTech) | Monogram | 1:48 | $14 | Multiple USN/RN markings, floatplane or wheeled version | OOB | 6 |
The Vought OS2U Kingfisher was initially accepted by the US Navy in 1940. It served as a shipboard (battleships, etc.) observation and scout aricraft, replacing the biplanes in use prior to that.

This kit is a few years old. If you don't like raised panel lines, don't buy this kit - it has them all over the place. The kit itself is not all that bad, but there are a few things to watch:

Photoetch : There's a card of photoetch brass in the kit, and some of it left me shaking my head in wonder (such as the steps, which are better represented in the plastic pieces.)
The rear cockpit - You may want to put plastic card down underneath the cockpit. The radio operator/gunner does not have legs in this kit - and if you look in, you can tell. It's the first thing you'd notice. The second thing is that there is NO floor - you can see the seam for the fuselage perfectly. Detailers will want to clean this up.
Fit isn't bad at all.
The front cowling is only about 1/8 inch deep - again, it's a point the detailers may want to work on (hollow out the cowl, add some plastc card and a resin engine for more "depth."
Be prepared to get "creative" with masking and such if you use the three-tone USN scheme. I did things a little backward here - I painted the white first, then the Dark Sea Blue, then painted the Intermediate Blue between them, working around the wing. It seems to be the best way to go.
The photoetched braces on each side of the main float's strut are difficult to line up (moreso because of the dark plastic, at least to me.) Cut off the locating tabs, and work from there.
Outside of the fiddly photoetch bits, this is not a difficult kit to assemble. Some of the photoetch can cause headaches, some (such as the steps) are better represented by the plastic pieces. If you havent' worked with photoetch before, this may be a good kit to start with, if you have prior modelling experience.