Lockheed P-38 Lightning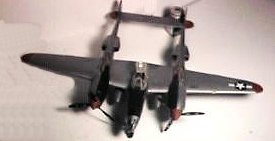 | | | | | | | |
| --- | --- | --- | --- | --- | --- | --- |
| Kit | Kit Manufacturer | Scale | Price | Options | Out of Box or Modified | Rating 1-10 |
| P-38 | Monogram | 1/48 | $10 | External stores | Out of Box | 6.5 |
The Lockheedp P-38 was one of three fighters the USAAC found itself with at the start of WWII. It was the most advanced and probably the best performing of the three (the other two being the P-39 and P-40.) The twin engine, twin boom layout gave it a distinctive look, as well as allowed all the armament (four machine guns and one cannon) to be concentrated in the nose. It also led to the Germans naming the machine the "Fork-tailed Devil." An excellent fighter in Africa and the Pacific, where most combat took place at medium to low altitudes, in Europe its reputation suffered due to substandard fuel and unforseen problems at high altitudes as well as compressibility problems, all of which were rectified in later models.
This kit was sitting around for quite some time, built but gathering dust. It's a typical kit of Monogram's lower cost lines (found everywhere from hobby stores to toy stores to grocery stores.)
The fit's pretty good, but not great. It has raised panel lines, and is moulded in silver plastic. The kit originally had a stand behind it molded to one of the tails, but that snapped long ago. I can't tell you which variant this is, as it's been quite some time since I've built it.It's good, but you can get better kits for a little more money (from Hasegawa or Airfix.). The 6.5 is primarily because of poor fit in the nose compartment.
Unfortunately, this kit met its end in a household accident some months ago. I may build a new kit of it... who knows.