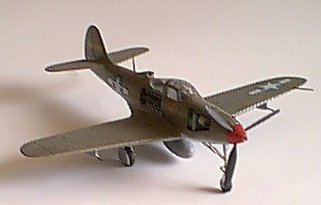 | | | | | | | |
| --- | --- | --- | --- | --- | --- | --- |
| Kit | Kit Manufacturer | Scale | Price | Options | Out of Box (OOB) or Modified | Rating (1-10 10=best) |
| P-39q Airacobra | ProModeller | 1/48 | $12 | Markings, armament | oob | 6 |
The P-39 was a unique aircraft in the US arsenal. The engine was mounted in the middle of the aircraft, close to the center of gravity, allowing for a 20 or 30mm cannon to be mounted in the nose, to fire through the propeller hub. While its performance as a fighter at medium to high altitudes was disappointing, it was a rugged aircraft, and the Russian pilots who got this aircraft loved using it in a ground attack role.
The kit itself is an old mold. I first built Monogram's P-39 over a decade ago, and this kit has not changed much. It goes together easily, but is a definate tail-sitter. Locating weight to fix this can be a challenge. I had to cram fishing weights in the nose, nose gear bay, and drop tank front (a 500lb bomb is also available) to get it to sit. (A clear post is also available, though not mentioned in the instructions.) The kit has a mix of raised and engraved panel lines, as well as photo-etched parts (new to this release.)
The photoetched parts are, in some areas, welcome, and in others puzzling. The throttle quadrant is shown as five pieces of photoetch material, and works well. The antenna could have worked just as well in plastic, as the photoetch part offers no "thinness" advantage. The oleos for the landing gear struts are provided - but it's not mentioned in the instructions that you have to cut the plastic torque arms off to mount them (obvious when you see it, but it leaves no place to easily mount the photoetched parts.)
Underwing "bins" for two .50 caliber machine guns (as mounted on the Q model) are provided, but the wing gunport and ejection chute detail are still visible on the wings. Since these are raised, a few quick passes with sandpaper gets rid of them, but it should have been rectified for this kit. Also, the bins have mounting pins - but you have to locate and drill out the holes yourself, or (as I did) cut off the pins. No clue to placement is provided. If you look on the three-view painting guide, the underwing guns mount next to non-existant panel lines. Again, a quick pass with sandpaper removes the raised detail, and you can scribe the line where it's "supposed" to be, but this is poor planning on Monogram's part.
Clear parts are thick and slightly distorted. If you want to show off the interior, leave the entry door (yes, door) open.
The kit is, at this time, out of production, but is the only 1/48 Airacobra you can find. It's not a hard build, but building anomalies, gaps, and the like mean you should be prepared to put in some time building it.
.