North American P-51A Mustang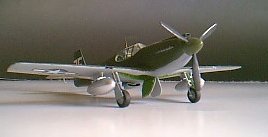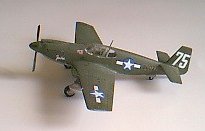 | | | | | | | |
| --- | --- | --- | --- | --- | --- | --- |
| Kit | Kit Manufacturer | Scale | Price | Options | Out of Box or Modified | Rating 1-10 |
| P-51A | Accurate Miniatures | 1/48 | $25 | Malcolm hood | Out of box | 9.5 |
The P-51A was the last of the Allison powered mustang variants. This kit was my first exposure to Accurate Miniatures, and I have to say they are an INCREDIBLE company. The model had no fit problems at all (one small seam, that's it), good painting instructions, easy assembly - it really is one of those kits that is just a joy to build. Accurate Miniatures itself is a company "by modellers, for modellers" so they know what works and what doesn't. This is one of their original kits - which included the P-51, Mustang I, and A-36 variants as well (some of which are almost impossible to find from anyone else.) It's well detailed (even to having the surrounds on the insignia a darker blue than the main "circle" - because they would have been painted on later!) and falls together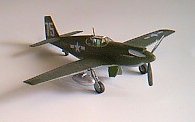 very nicely. The only complaint I could hope to make against it is that they do not provide parts for the regular framed canopy to be displayed in the "open" position.

If you find an Accurate Miniatures kit - buy it. You won't be disappointed. (Standard disclaimer <g> - I'm not an employee of AM, and they didnt' pay me to say that. They didnt' have to.).
.
OK, another one I have to say more about. Yes, the nose on this kit should be yellow, I must not have been paying attention... and it's another I'd like to redo. There's not actually a lot TO this kit. It can be put together over a weekend, even if you want to work on detailing the cockpit. If you want to do more, well, it depends on the resin or photoetch you want to add. Still, a good replica can be had in very little time. This is a very nice fitting kit, with unusual attention to detail. Look for it to come out under the Italeri label soon, like the IL-2 and TBM Avenger.