Flakpanzer IV "Wirbelwind"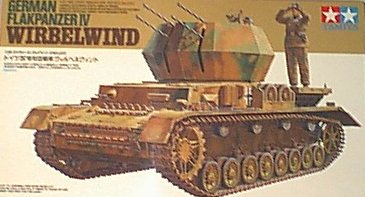 | | | | | | | |
| --- | --- | --- | --- | --- | --- | --- |
| Kit | Kit Manufacturer | Scale | Price | Options | Out of Box (OOB) or Modified | Rating (1-10 10=best) |
| Flakpanzer IV Wirbelwind | Tamiya | 1:35 | $20 | | | TBA |
While the German 88mm FLAK cannons were feared by Bomber Command and the 8th AF, they couldn't provide easily mobile close air defense. For this role, many vehicles were modified to carry machine guns and cannon of various calibers to deal with low level air to ground threats. Initially the main vehicle was the Mobelwagen , which had 1 37mm cannon and somewhat light armor. It was followed by this vehicle, the Wirbelwind, built on the hull of the Panzer IV. It featured 16 armor plates forming a rotating turret, and was armed with four 20mm cannon. These guns could be brought to bear on just about any aircraft or even light ground vehicles, being able to be depressed 10 degrees or raised to 90 degrees (vertical,) and rotated in any direction. The four 20mm cannon could fire up to 800 rounds per minute, and would chew up any aircraft caught in their field of fire.
The kit: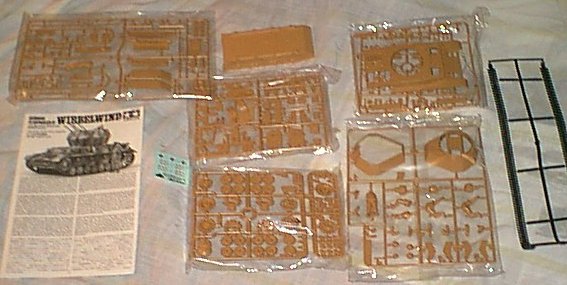 I'll be honest, I haven't built a tracked vehicle in many, many years, and opening this box and seeing the large number of parts is daunting, to say the least. The parts are typical Tamiya quality, very nicely molded with no flash. The tracks are two vinyl "runs" of tracks - more experienced modellers may want to replace them with the appropriate "individual link" tracks. This won't happen with this review, since like I said - I just don't build many of these, and putting together runs of individual link tracks is an art form in and of itself.
The parts are molded in a decent dark yellow, similar to the base coat of the finished vehicle. There are a large number of road wheels (obviously, it's a tank chassis!) so be prepared for some repetition. The top and the bottom of the hull are molded in one piece each, and the main turret's armored sides are molded in two pieces. I'm told these should be thinned some to scale thickness. A cursory examination shows some small ejector pin marks that will need filling, but not many, and a "nib" on the bottom of the hull that will need to be removed and sanded flush. Other than that, it's nicely molded. Four figures are included - a gunner, two loaders, and a commander (standing with field glasses.)
The instruction sheet is well laid out and easy to understand. The gun barrels are "closed," so you will either have to hollow them out (not a big deal if done carefully) or replace them with aftermarket metal barrels. You'll probably want to drill out the gunsight and use fine wire or stretched sprue to recreate the crosshairs - the solid "disk" just doesn't look right. The decal sheet is small - something this airplane builder isn't used to seeing! - and paint callouts are done in Tamiya paint designations. You should be able to find the colors in any decent hobby paint line, however.