1970 Chevelle

---
| | | | | | | |
| --- | --- | --- | --- | --- | --- | --- |
| Kit | Kit Manufacturer | Scale | Price | Options | Out of Box or Modified | Rating (1-10) |
| 1970 Chevelle | Testors | 1:24 | $14 | | | 7.5 |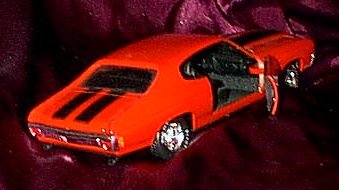 The 1970 Chevelle is one of those cars that just looks good (to some folks, at least.) It's from the era when gas was cheap, gas mileage wasn't considered, and cars were big and heavy with huge motors under the hood.
This era of cars seems best suited for metal-body kits - the cars were solid and heavy, and so are the kits themselves! Testors distributes a line of metal body kits under their name (the originals come from manufacturers such as Burago,) dealing with classic cars, muscle cars, and the like. Some of the kits are great, some are not-so-good. Most of them have some working parts, a passable engine compartment, and no decent undercarriage detail. This falls in that category.
The kit goes together quite easily, and has a degree of detailing inside (no seat belts, though, and except for the shifter, all black plastic.) The interior could well be a playground for someone to detail and "customize" for a better look. The engine bay is stuffed with a V-8, nicely detailed (though again, all in black and chrome.) A little more detail and some paint will go a long way, though spark plug wires are provided (nice touch.)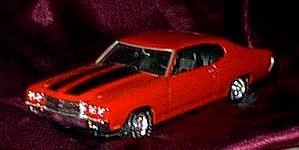 The parts go together with no problem. This is not a difficult kit to assemble. However, the underside detail (exhaust system and the like) is molded into the chassis, and is somewhat soft. With a little work (or at least some paint) this could be dressed up. The exhaust pipes should be hollowed out somewhat.
The body itself is a large metal casting with the doors and hood (openable) already attached. For a metal casting, it's got decent detail.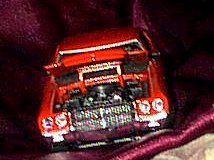 It's prepainted and pre-decalled with the SS's stripes. It's very durable, and the finish is good.
If you're looking for a superdetailed model, you can either use this as a base and do a lot of work, or you can go to a plastic or resin kit. But for a quick, enjoyable "throw together" model, or something you can let the kids play with afterward, this works. The lack of detail (given its molding process and part layout) isn't suprising, but won't win any contests. Still, it's an enjoyable kit, and looks good when finished.