BMW M3 Convertible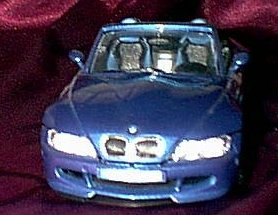 ---
| | | | | | | |
| --- | --- | --- | --- | --- | --- | --- |
| Kit | Kit Manufacturer | Scale | Price | Options | Out of Box or Modified | Rating (1-10) |
| BMW M3 Convertible | Testorsr | 1:24 | $14 | | | 9 |
The BMW M3 is a recent product of one of the best-known German car marques out there. It's a small, sporty convertible, known for good handling and plenty of power along with its good looks.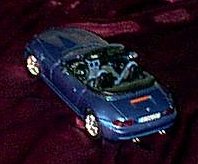 The Testors metalbody kit of this car is one of their better ones. It's not overly detailed, which leaves plenty of room for those of you who like to superdetail kits. On the other hand, it's also not hard to assemble - with a little patience, you can get this together in less than an hour. It comes prepainted in a nice, metallic blue. None of the parts gave any fit problems, which is a welcome change from some of the other ones that have come out recently.
The interior is in light blue and black vinyl and plastic. The seats come with rudimentary "seat belts" - a little work with some photoetch, or even painted plastic, to get the buckles in, will dress this up just that "touch" more to make it look more realistic. The instruments are provided as decals - be sure to put them on and let them dry before assembly! They're well-nigh inaccessible once the interior is put together. The parts, as mentioned, are premolded in blue and black plastic. Some work with a paintbrush to pick out details would go a long way here, but it's not bad "as is" either. All mirrors (including a "vanity" mirror on the visors) are provided as chrome decals.
The engine compartment is rather simple - again, it goes together quickly. This is another place some work can be done with a paintbrush and detail parts to make it "more realistic." The underside of the hood (as well as the interior sills of the doors) shows one weakness of these kits - they're apparently closed when painting the body, and the die cast metal shows through easily. Paint these parts to improve the kit's appearance.
As always with these kits, fit the chassis, interior, and body together carefully to make sure the steering linkage works. It's a simple system, just keep your eye on what you're doing and you'll be fine.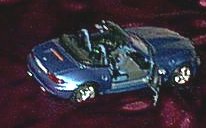 Some "texturing" is done on the chromed (!) exhaust system. This could be scraped off and overpainted with metallic paint for a better look. The exhaust pipes themselves are commendably "deep" - they don't have the shallow, bowl appearance of many of these kits, and shouldn't need drilling out or special attention.
All in all, this does a respectable job of capturing the overall "look" of this fascinating little car. Some sacrifices had to be made in the choice of material, but it's nothign a little work with a paintbrush or other modelling materials couldn't take care of quickly, and if you just want a quick kit (perhaps to build with a child (no glue and few tools are needed,) or to display somewhere you can't watch the handling, such as in an office,) this would be an excellent kit. With more work, it could be brought to contest levels. Try it out.