Ferrari F50
---
| | | | | | | |
| --- | --- | --- | --- | --- | --- | --- |
| Kit | Kit Manufacturer | Scale | Price | Options | Out of Box or Modified | Rating (1-10) |
| Ferrari F50 | Testors | 1:24 | $14 | | OOB | 7 |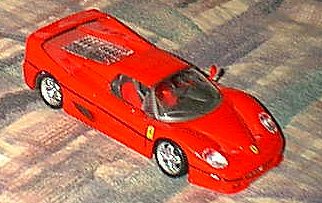 The Ferrari F50 was sold to the public in 1997 as basically a street legal race car. It was developed with Formula 1 technology, and sold in two versions, a Berlinetta with hardtop (which this model represents) and a Barchetta, with roll bar.
The kit itself isn't bad. As with most of Testors' metalbody kits, no tools are needed to assemble the kit besides a screwdriver and kinfe or clippers (to seperate the parts from the sprues.) It's prepainted in the very distinctive Ferrari red, and parts are molded in red, black, silver and clear. The wheels are, of course, chromed.
The kit fits together rather well. The interior is very simple - the seats are not seperate, as most of the kits have them, but are molded to the interior. The seat centers are painted red, to match the exterior. Detail is molded into the dash, but should be picked out somehow to bring it out more.
The engine compartment is someplace that superdetailers and Ferrari afficionados will probably want to do some work on. The engine is presented in dark grey and silver. There is rather vague detail provided, and no real "color" to it. A bit of paint and some time (and wire) will really dress up this area of the kit, as the engine is somewhat visible under the clear decking.
I used rub 'n buff on the headlight recesses, as on the kit themselves they're left red.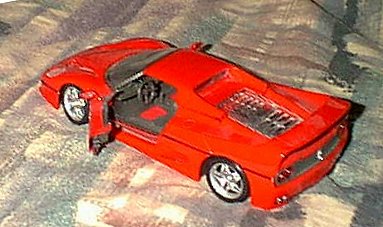 As with most of these kits, the doors open and the steering wheel and front wheels are operational. Care should be taken during assembly to make sure this gets together completely. The "hood" doesn't open - of course, the engine is in the back, and the entire rear deck (wing included) raises to show the engine.
The underside is rather devoid of detail, but this is accurate as the full size car has a carbon "plate" underneath for aerodynamic reasons. This is a nice relief from the other kits with somewhat toylike, indistinct exhaust systems shown.
The kit itself fits together easily, and apart from any time taken to superdetail, should go together in under an hour. It's an enjoyable kit with no fit problems, though my hardtop has a slight "warp" in it that can be fixed by immersio