1999 Corvette Convertible (metalbody)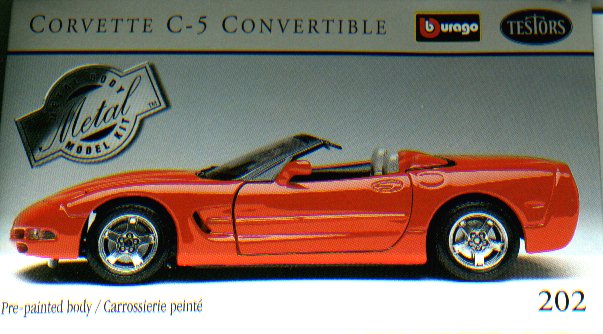 | | | | | | | |
| --- | --- | --- | --- | --- | --- | --- |
| Kit | Kit Manufacturer | Scale | Price | Options | Out of Box or Modified | Rating (1-10) |
The 1999 "C5" Corvette convertible shows a sharp evolution in the body style introduced in 1983. With a new engine under the hood, it's the current flagship (and priced as such) in Chevrolet's lineup.
The kit itself is another metalbody. It's not a "curbside" model, as it does include some engine detailing, but it's not as detailed as, say, a plastic kit. The topmost "detailing" is a plastic overlay of sorts, with very little depth - and on my kit, I have to either keep the hood shut, or superglue the overlay down. (It is integral with the windshield frame.)
It does go together very easily - the instructions are pretty straightforward (though bending some of the parts to form the proper profiles, mostly in the engine and radiator/chassis, is different from many of these kits.) Fit, other than the loose overlay/windshield frame, goes well. The only other problem area is in the turn signals - try as I might, I could not get them to go all the way in.
Detail's typical for these kits - not as 'crisp' as a plastic kit, but acceptable (and probably true to scale!) Add to that the durability and lack of a need to paint the kit, and you have a nice diversion and a reason to spend more time with the kids.
All in all, detail's acceptable, and this builds into a nice little representation of the Corvette.