Mako Shark showcar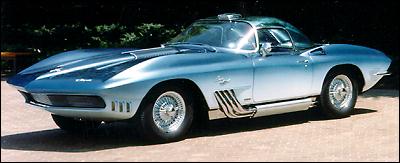 The original Mako Shark showcar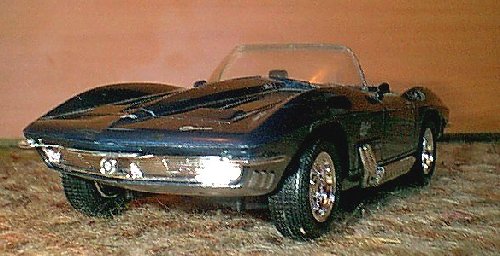 ---
| | | | | | | |
| --- | --- | --- | --- | --- | --- | --- |
| Kit | Kit Manufacturer | Scale | Price | Options | Out of Box or Modified | Rating (1-10) |
| Mako Shark showcar | AMT | 1:25 | $9 | | | 9 |
The Mako Shark was one of two Corvette showcars to hold the name. The original led to the '63-'67 bodystyle, the second influenced the '68-'92 Corvette. The shape, color, and name of the car came from a fishing trip the lead designer (Mitchell, IIRC) took. It led to a major change (both times) in the look of the Corvette, and (IMHO) the best looking bodies in the series.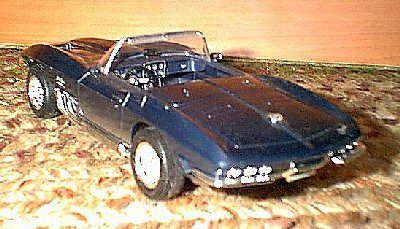 The AMT kit is a very easy kit to assemble. No glue is required - it assembles much like Testors' metalbody kits. Most parts press-fit together, and the main body/chassis assemblies are secured together with self tapping screws. It builds up, for the most part, into a typical demo model, and looks nice as is. It assembles into a curbside kit - no engine detail under the hood at all. As a curbside kit, it looks nice on the shelf.
For those who want to do a little more detailing, there's no internal "chromed" detail, the engine block and oilpan bottoms are moulded into the bottom of the chassis. A bit of careful painting (I "metalized" the oil pan with Rub 'n Buff metal) should turn out very nicely. The windshield frame needs to be painted, as do the sun visors. Unlike the (Italeri?) kit, it also doesn't include the clear "bubble top" cover the showcar displayed on occasion. Someone familiar with vac-forming (even the "heat and smash" technique) should find this relatively easy to make out of clear styrene, however.
The body comes prepainted in silver and blue, and looks very nicely done. The blue looks a bit dark compared to many photos I've seen, but it seems to be a bit dependant on the light the original was in. None of the details (door handles, clasps, etc.) are detailed, of course, but it's nothing a few short strokes with a brush or Rub 'n Buff can't take care of. The engine exhaust sidepipes could also use a slight deepening (they're very shallow) and a drop of black paint to help give more of an illusion of depth.
All in all, a nice, quick build and a decent finished kit, whether you choose to add some detail to it or not.