Leading Edge Decals Canadian 70th anniversary F-18
Note - Reasonably large image, may take time to load.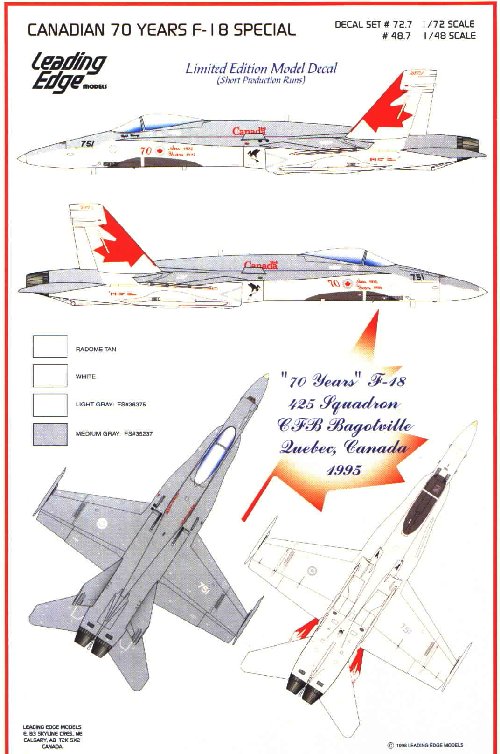 | | | | | | |
| --- | --- | --- | --- | --- | --- |
| Kit | Kit Manufacturer | Scale | Price | Options | Rating (1-10 10=best) |
| Canadian 70 year anniversary markings | Leading Edge | 1:48 and 1:72 | Unknown | One aircraft | 10 |
Readers from the US are familiar with the myriad schemes US Navy and USAF aircraft wore in 1976 to celebrate the bicentennial of the American Revolution. The Canadian Armed Forces got to get into the act recently, as well - for both the new millenium, and the 70th anniversary of the Canadian air force (only 5 years apart.) So if you saw any Canadian fighters flying overhead with giant maple leaves, well, now you know why! These schemes, as with most anniversary schemes, were exceptionally colorful and unique.
This is a bright, if not difficult, scheme. The usual Canadian greys and false canopy (included as a decal grouping) are used, with the exception of brighter national markings, a white tail, and big red Canadian maple leaf. There was a great deal of attention paid to detail with this kit - even the leading edge stripes, applied as a large "decal" on the real aircraft, are given a large clear area to simulate the protective decal for the model. This is the only "overage" of carrier film on the entire sheet - and it's supposed to be there.
All in all, this is a very nicely done decal sheet, and as it is limited production, it'll be great if you want to set something a little "different" on the shelf. Given the quality of the sheet, I'd say hold onto it for an appropriate Hasegawa Hornet - Monogram's kit is nice, but a LOT of work, and a great decal sheet like this deserves to be put on a great kit.
Oh, as to the price - I won this in a contest at the Aircraft Resource Center for OOB Monogram F-18s. A decent payoff for working on that kit!