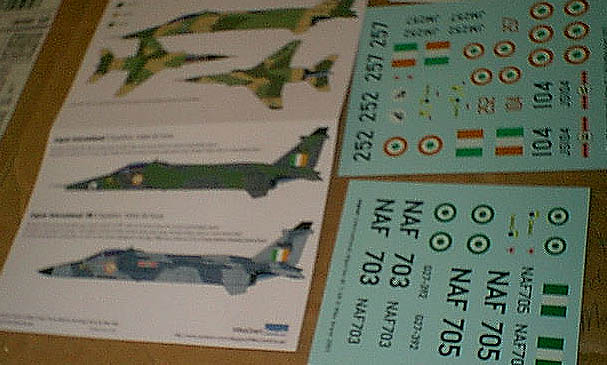 | | | | | | |
| --- | --- | --- | --- | --- | --- |
| Sheet | Decal Manufacturer | Scale | Price | Options | Rating (1-10 10=best) |
| Mike Grant Decals Jaguar Internatioal | Mike Grant Decals | 1/48 or 1/72 | $6 (1/72) or $8 (1/48) | Two Indian and one Nigerian aircraft | 10 |
There are a few kits of the SEPECAT Jaguar out there - usually by Airfix. Typically, they're in British or French markings. This gorgeous aircraft did, however, have other export successes - India and Nigeria being among them.
Mike Grant runs a (very) small business making short-run decals of subjects that haven't been touched by the larger decal manufacturers. He actually prints them out "to order" from his home, using an ALPS printer (an exceptional, though hard to find, printer that uses a "microdry" process instead of normal ink or laser toner.) The decals are very clear (my photo above notwithstanding - if I ever get around to buying a scanner, I'll have to redo that!) and crisp.
Due to the way these are printed, some care is required. The use of Solvaset (an admittedly harsh setting solution) is not reccommended, though with care Microsol and Microset are supposed to work. Also, unlike the "big" decal makers, the decals are printed on a solid sheet of carrier film (much like you can buy at many hobby shops to run through YOUR printer.) You will have to carefully cut around the decals. These are apparently somewhat subsceptible to being scratched. The more care you take, the better. Still, should accidents happen, contact Mike per the information given in the instructions, and he'll take care of replacements.
Mike has apparently changed his layout since these were reviewed on Hyperscale a while back. The sheet shown there has all the markings on one sheet. My sample has the two Indian AF examples together, and the Nigerian examples on another. You can make both Indian aircraft, but only one of the Nigerian (single or two seater) with the markings supplied.
The decals can be ordered directly from Mike... I used Paypal to pay for them, but other options are available.
All in all, these look to be very nice decals, well laid out and reasonably described in the instructions. I'm looking forward to using these on my Airfix Jaguar - and may have to buy a few more....
Reccommended.