Gundam Epyon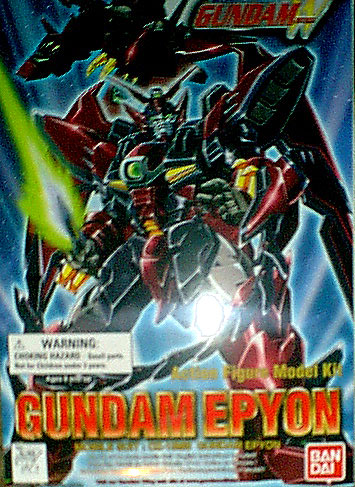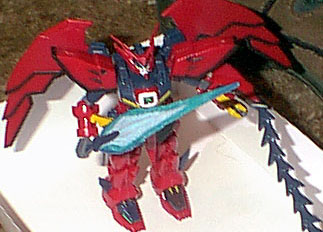 | | | | | | | |
| --- | --- | --- | --- | --- | --- | --- |
| Kit | Kit Manufacturer | Scale | Price | Options | Out of Box (OOB) or Modified | Rating (1-10 10=best) |
| Gundam Epyon | Bandai | 1:144 | $10 | Transforms | None | 9 |
I'm just going to refer you to the Wing Zero Gundam custom page for some of the Gundam links. This is (supposedly) from the Gundam Wing series (not the first tape, though) - and has a mobile suit and "bird" mode.With its red-and-black color scheme, it's an interesting looking machine.
This kit comes in multiple, well molded red and dark grey sprues. Unlike the Wing Zero Gundam, there's no need for it multi-color sprue. Unfortunately... there is, and to get this kit to match the box art, you *will* need to paint the kit. I decided to see what kind of difference between painting and using the adhesive decals would be.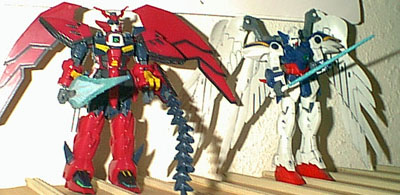 I also decided, given the splits and detaching pieces off of the first Gundam, to try gluing this kit together. If you choose to do this, pay close attention to what the parts are supposed to be doing before gluing, or you won't be able to pose the kit. (The first kit is currently missing the "crest" on top of the head, and did have the red 'fins' on the arms come off, though they did get re-glued on.)
As typical, the kit goes together in assemblies, starting with the legs. The feet are one of the definate points where I decided to try painting. One foot is done with the decal - stretched around the raised ridges on the feet. The other is painted, and turned out better (less wrinkly, definately.)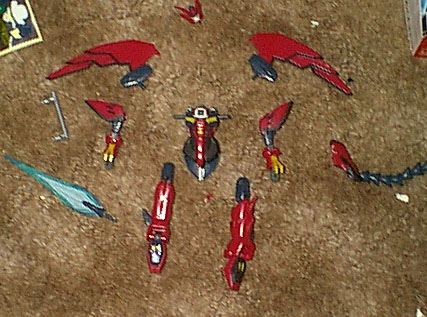 I actually stopped here, and painted the black edging to the wing segments (one piece, actually,) as well as detail painting. The wing "claws" and some of hte chest detail were painted Gunze's Orange Yellow acrylic, and the chest "pearl" (for lack of a better term, the greenish sensor in the middle) was painted white, then green. For the face (when I got there) I used the decal, but white and green paint with a wash would work out just as well.
There's not much you can say about building these, other than take your time, double check the instructions, and that - to me - gluing several of the pieces seems to be a good idea for the sake of reinforcing the joins. This is an interesting looking machine - just be prepared to either paint it, or have it look "not quite" right. My biggest problem with this kit is the odd, red plastic- it shows every nick and cut. If I were going to build this again (preferrably in a larger scale,) I'd definately paint the entire thiing.
Still - it's an interesting kit, with a bit more work involved to finish it. Reccommended.