MS-16S Zaku II (Char's Zaku Custom)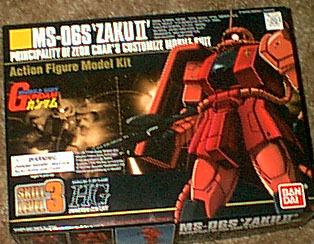 | | | | | | | |
| --- | --- | --- | --- | --- | --- | --- |
| Kit | Kit Manufacturer | Scale | Price | Options | Out of Box (OOB) or Modified | Rating (1-10 10=best) |
| MS-16S Zaku II Char's Custom Suit | Bandai | 1:144 | $15 | weapons seleciton | OOB | 9 |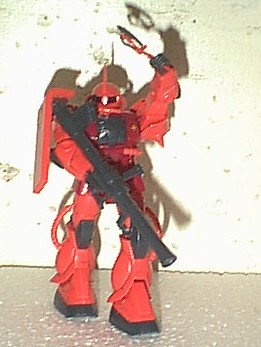 Mobile Suit Gundam and its followups has been an incredibly successful, interesting series. This suit is from the original "Mobile Suit Gundam" series. The Zaku II was Zeon's primary mobile suit, and this one is a command model, customized for Char, the "Red Comet" in the series. It's faster moving and more agile than the standard Zaku II, and carries Char's custom coloring.
This kit is typical Bandai High Grade gundam. It didn't need multicolored sprues, as the kit itself only has three colors - black, red, and pink (well, I suppose some purist would call it salmon....) The parts are cleanly molded, and fit together decently well. Joints are articulated with poly caps, which provide a longer lasting, durable joint than plastic on plastic would.
Given the nature of these kits - well molded, very poseable, across the line - the only thing I'd have to really talk about with these kits are any strong or weak points, and the options you have. In this kit, you're given a "heat hawk" (axe,) which fits in one hand, and a bazooka and machine gun, both of which are given a dedicated "hand" to switch out. This is a better approach than in the Gouf reviewed earlier, which has a hand that has to be taken apart for the heat rod (whip,) machine gun and sword.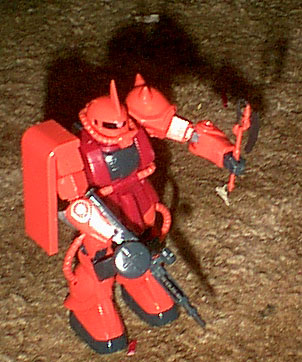 No painting is really needed, as this is molded in color. The pink is matched pretty well by Gunze's Salmon (which, by the way, should be used in the cowl of F4U-1 Corsairs, the reason I bought it!.) Also, the heat hawk should have a yellow blade (the color it has when activated.) The edge is defined by a panel line.
Again, this is a nice kit, a change of pace, and a great way to either relax and/or spend time with the kids and keep the hobby alive....