Gundam Wing Zero Custom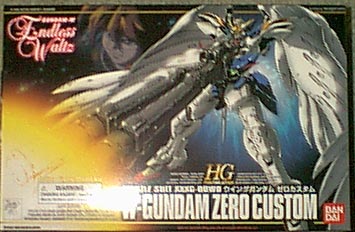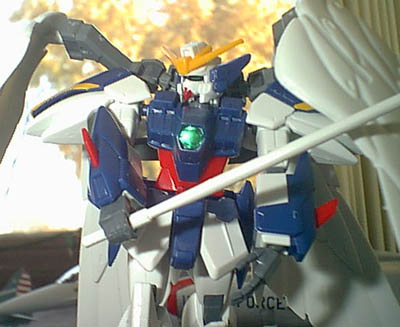 | | | | | | | |
| --- | --- | --- | --- | --- | --- | --- |
| Kit | Kit Manufacturer | Scale | Price | Options | Out of Box (OOB) or Modified | Rating (1-10 10=best) |
| Gundam Wing Zero Custom | Bandai | 1:144 | $14 | Two torsos | None | 10 |
Normally, I put some sort of history of the prototype here. But I have to be honest - when I started this review, I was clueless about Gundam! This is an update on the Gundam Wing Zero from Gundam Wing, from the "Endless Waltz" series (which I picked up after this, interesting....) And, frankly, it looks cool.... If you want more Gundam information, I'll refer you to the Gundam Project's Endless Waltz Storyline page, and their Endless Waltz gundam reference page. It's a pretty good looking site.
I was somewhat burnt out (yes, even with my current glacial building pace) and wanted to do something "different." Walking through Wal-mart, this kit caught my eye. It was definately different - a "mobile suit" with wings... I wandered up, picked it up, and decided "what the heck." A short while later, the kit was on my bench, ready to go.
The kit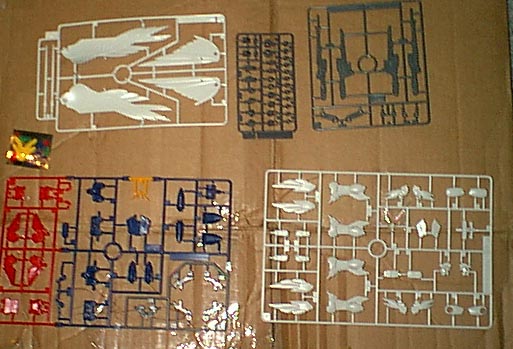 When you first open the box, you're greeted with a good bit of plastic. One of the things that worried me when I first saw this kit was painting it. No worries there at all! The kit comes in multiple colored plastic - through some clever mold setup, *all* of the different colors end up on the same sprue. Interesting setup.
This kit is designed as a "snap together" sort of kit, with rubber pieces for connectors (and the multiple hands) to allow you to move and pose the kit. There was very little cleanup needed, as far as flash on the parts. Still, given that these DO press together (and are precolored) be careful while trimming the parts from the sprues. An errant "nub" will cause a gap, or prevent movement.
The decals are peel-and-stick foil. This worried me at first - if the adhesive is too strong, you won't be able to adjust the bits, and will have problems. This was not an issue.
All the moldings looked very well done. The plastic is slightly "soft" but not overly so.
Assembly
Given that this IS a "snap together" kit, I thought I'd be done with this in no time.
WRONG!
The kit builds up as a series of assemblies - and you MUST watch the alignment of pieces. Some of the instructions seem vague at first, but just comparing them to the parts usually clears things up. This actually took me some time to build.
You start with the feet and legs - cut them from the sprues and be VERY conscious of cleaning off the attachment points to the sprue, or you will end up with gaps! Cleanup takes the most time on the model, but you're well rewarded when you're finished. The legs, with cleanup and alignment, took about 20 minutes. They're not all that difficult - again, just watch what you're doing and go slow.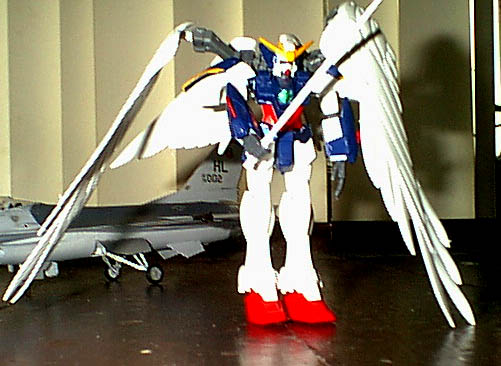 You move like this throughout the kit - just take the time to watch the diagrams. Some parts don't "make sense" when you first see them, but as they go together, it works out. Figuring out the wings (at first) threw me, but it's really an elegant assembly!
You are given two torsos - the only way the arms don't move is "together" as shown on the box top (Hold your arms out and put them together, and you'll see the gesture I'm talking about.) This is done by giving you a second torso, canted inward, for the "dramatic" pose. Yes, the kit is designed to be taken apart and rearranged - and the arms, legs, and wing assembly (and head) slide onto pegs with the rubber attachments inside. Very nice.
If you're used to building OTHER kits, you may want to put off putting the decals on. DON'T. Put them on when they're shown. The "numbers" are in japanese - if, like me, you can't READ japanese, just match the "funny looking symbols." (No offense..) They're distinct enough that you can make out what goes where by looking at the instructions.
You are given an assortment of weapons and hands. The hands just snap in and out - you're given two open hands, two fists, and two "holding" hands to place weapons in. Weapon-wise, you're given two swords and one (or two) guns - two cannon that combine into a double barreled cannon that's just plain HUGE.
In any case, when you're done - it's a unique looking model! It was a lot of fun to build, and I'm looking at other Gundam kits now. Maybe the Deathscythe Hell, or a regular (non- "endless waltz") kit. If you're looking for something different, or something you can build with a kid, this would be it. Give it a shot.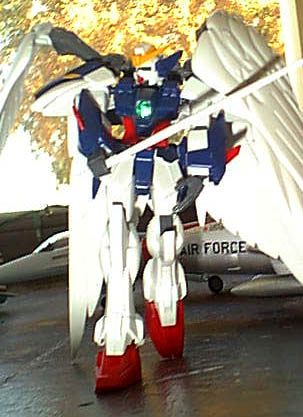 (Info updated and "Hellscythe" corrected into "Deathscythe Hell" 7-12-00 - thanks for the email, and I'm obviously building more Gundam kits!)
(Kit given a wash and gold "V-fin" created.) A bit over a year on, I have to add a few comments. First, the polycaps don't hold well on this kit - the rear wings, and arms, are rather "limp" now. All you need to do, though, is make the fit tighter - in this case, tape wrapped around the peg re-tightens everything nicely. Second... yes, this needs a wash (or airbrushing) on the wings to bring out the detail... Here's how it looks now. BE SURE to glue the "V-fin" and small arm "fins' - they come off VERY easily, and are lost even faster. Fortunately, I found mine again...